Inverter Charger
4000W DC 12V Pure Sine Wave Inverter With Charger

  Free Shipping 
Lifetime Customer Support   
  24 Months Warranty   

Highlight:
★ This LFP Series Pure Sine Wave Inverter is a combination of an inverter, battery charger, and AC auto-transfer switch. Low frequency, low Idle Current, BTS cable, remote control.

★ This 4000-watt inverter charger requires 120VAC input and can provide 120VAC output power for the appliances, and it can output 50 or 60Hz via the SW4.

★ AC/Battery Priority: Our inverter is designed with AC priority by default, you can choose the battery priority by SW5 switch.

★ Adjustable Charging Current: The max charge current can be adjusted from 0%-100% via a liner switch. 

★ Auto Gen Start: The inverter can start up a generator when the battery voltage goes low, and turn the generator off after battery charging is finished.
---
QUESTIONS & ANSWERS
Have a Question?
Be the first to ask a question about this.
Ask a Question
Features
Main Features:
4000W Low-Frequency Pure Sine Inverter With Charger.
AC/Battery Priority Selector.
Automatic Generator Start.
Safety and Convenient.
The low-frequency inverter can power all kinds of appliances.
LCD Display, Remote Control, BTS including.
Low Idle Consumption.
7 Battery-type settings for the charger.
Multi-Stage Smart charger 120+/-5A, the charger can be disabled.
10msec typical transfer time.
Packaging:
4000W 12V Low-Frequency Pure Sine Inverter 
English Manual
Remote Control
BTS Cable
Unit Weight: 53LB 
Unit Size: 17.4 x 9.5 x 7.8 inch
Shipping Weight: 57LB 
Shipping Size: 26 x 12.6 x 12.0 inch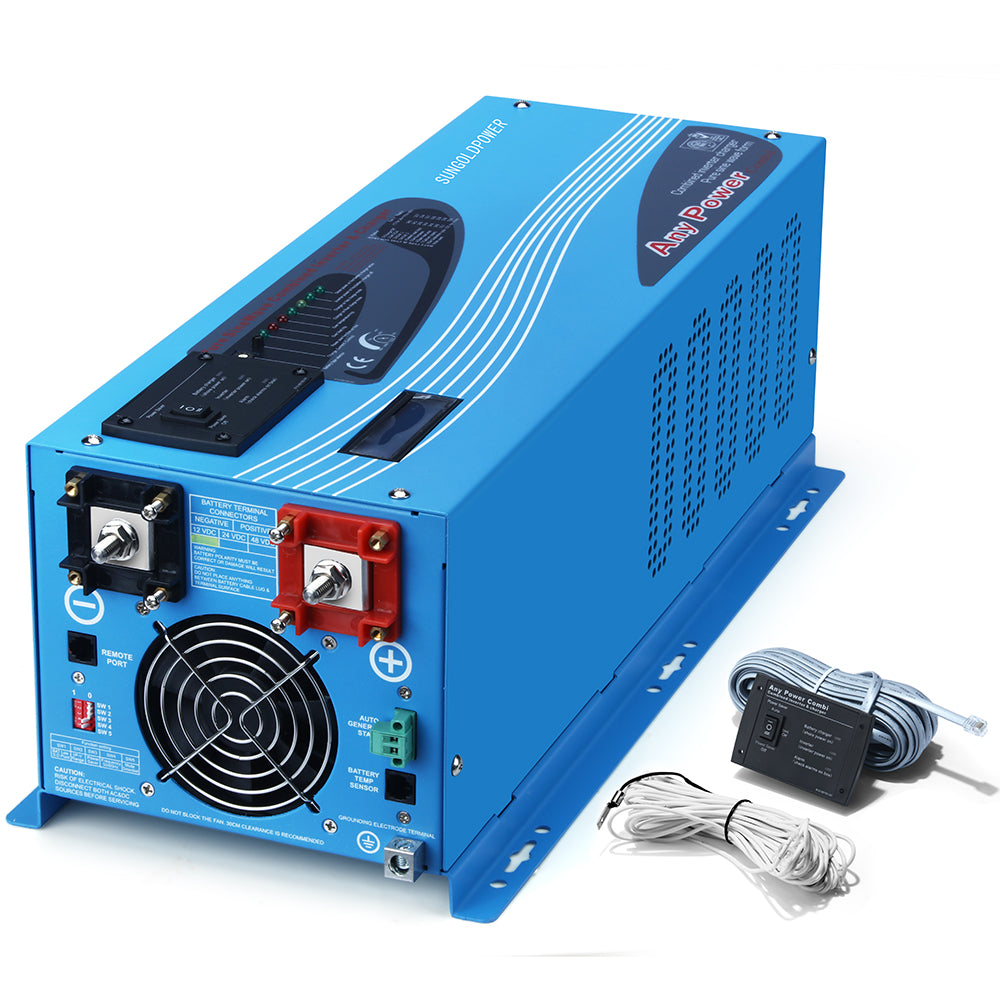 Specification
Main Specification:

Inverter Output:
Continuous Output Power: 4000W
Surge Rating: 12000W (20 Seconds)
Output:120VAC, 60hz
Output Wave: Pure Sine Wave (bypass mode)
Typical Transfer Time: 10ms (MAX)
Nominal Efficiency: >88%
DC Input:
Nominal Input Voltage: 12.0Vdc
Minimum Start Voltage: 10.0Vdc
Low Battery Alarm: 10.5Vdc-11.0Vdc
Low battery Trip: 10.0Vdc-10.5Vdc (select by SW1)
High Voltage Alarm: 16.0Vdc
Low battery Voltage Restart: 13Vdc
Idle Consumption: 45W 
Power Saver Mode Idle Consumption: 18W
AC Charger :
Charger Rate: 120+/-5A
AC input Range (Grid or Generator): 90V-135VAC/100V-135VAC (selected by SW2)
Over Charge Protection Shutdown:15.7V
Selectable Charge Setting based on battery type Adjustable charge current: off 0%-100%
3-step intelligent battery charger
User Manual
Download LFP Series Pure Sine Wave Inverter/Charger User's Manual
FAQ
Frequently Questions Answer
1. What is the idle wattage?
    Dear Customer, the idle power is 18W if the saver-on mode and the idle power is 45W if the saver-off mode, thanks.
2. What kind of wiring is from the inverter to the remote?
    Dear Customer, in packing it has a matching remote wire for this product, which you could use directly, thanks.