Power Inverter
4000W DC 24V Pure Sine Wave Inverter With Charger
Hightlight:
This Pure Sine Wave Inverter is a combination of an inverter, battery charger and AC auto-transfer switch. Low frequency, low Idle Current, BTS cable, remote control.
Adjustable Charging Current: The max charge current can be adjusted from 0%-100% via a liner switch on the right of the battery type selector. This will be helpful if you are using our powerful charger on a small capacity battery bank.The liner switch can effectively reduce the max charging current to 20% of its peak.Choosing "0" in the battery type selector will disable charging function.
AC/Battery Priority: Our inverter is designed with AC priority by default, when AC input is present, the battery will be charged first, and the inverter will transfer the input AC to power the load. The inverter can be easily customized to Battery priority via a DIP switch, When you choose battery priority, the inverter will invert from battery despite the AC input.
Auto Gen Start: the inverter can be customized to start up a generator when the battery voltage goes low.When the inverter goes to low battery alarm, it can send a signal to start a generator, and turn the generator off after battery charging is finished. The auto Gen start feature will only work with generators designed to work with this feature.
Protections: AC input over voltage protection/AC Input low voltage protection/Low battery alarm/High battery alarm /Over temperature protection/Over load protection Short Circuit protection (1s after fault)
/Back feeding protection.
---
Warranty

hello

1 year warranty, 30 days refund.
Features
Main Features:
4000W Low Frequency Pure Sine Inverter With Charger.
AC/Battery Priority Selector.
Automatic Generator Start.
Safety and Convenient.
The low frequency inverter can power all kinds of appliances.
LCD Display, Remote Control, BTS including.
Low Idle Consumption.
7 battery type settings for charger.
Multi Stage Smart charger 65+/-5A, charger can be disable.
10msec typical transfer time.
Packaging:
4000W 24V Low Frequency Pure Sine Inverter
English Manual
Remote Control
BTS Cable
Unit Weight: 53LB 
Unit Size: 17.4 x 9.5 x 7.8 inch
Shipping Weight: 57LB 
Shipping Size: 26 x 12.6 x 12.0 inch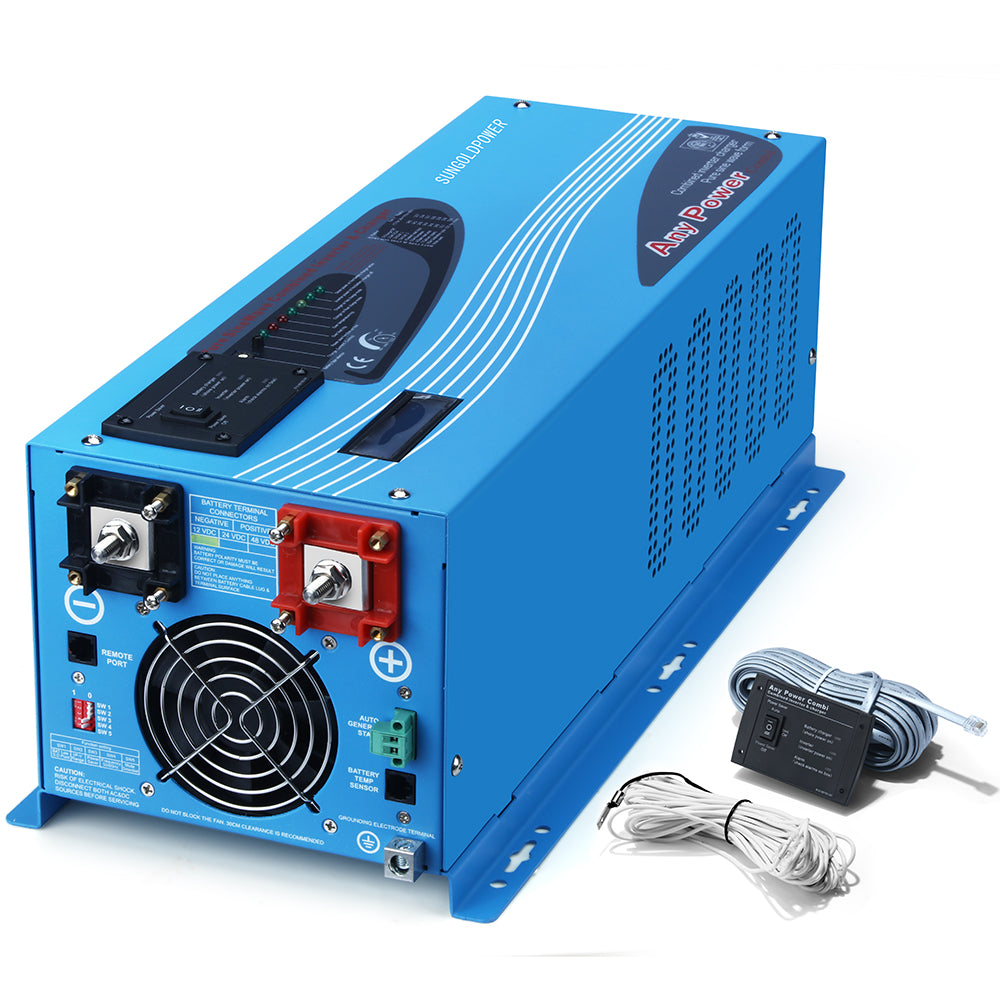 Specification
Main Specification:
Inverter Output:
Continuous Output Power: 4000W 
Surge Rating: 12000W (20 Seconds)
Output: 120VAC, 60hz / 230VAC, 50hz (select) 
Output Wave: Pure Sine Wave (bypass mode)
Typical Transfer Time: 10ms (MAX)
Nominal Efficiency: >88%
DC Input:
Nominal Input Voltage: 24.0Vdc
Minimum Start Voltage: 20.0Vdc
Low Battery Alarm: 21.0Vdc-22.0Vdc
Low battery Trip: 20.0Vdc-21.0Vdc (select by SW1)
High Voltage Alarm: 32.0Vdc
Low battery Voltage Restart: 26.0Vdc
Idle Consumption: 48W
Power Saver Mode Idle Consumption: 19W
AC Charger :
Charger Rate: 65+/-5A
AC input Range (Grid or Generator): 80V-140VAC/90V-140VAC (select by SW2), 184-253VAC/140-270VAC (select by SW2)
Over Charge Protection Shutdown:31.4V
Selectable Charge Setting based on battery type Adjustable charge current: off-20%-100%
4-step intelligent battery charger
User Manual
Download LFP Series Pure Sine Wave Inverter/Charger User's Manual
FAQ
Frequently Questions Answer
1. For charging with DC input, can I directly connect a 24v solar panel to this or do the solar panels have to go through a charge controller?
    Dear Customer, this inverter doesn't have built in solar controller, you need have an external solar controller if you want it work with solar panel, hope your kind understanding, thanks.
2. What is the idle wattage?
    Dear Customer, the idle power is 19W if saver-on mode, the idle power is 48W if saver-off mode, thanks.