4000W DC 24V Split Phase Pure Sine Wave Inverter With Charger
Hightlight:
★ This LFP Series Pure Sine Wave Inverter is a combination of an inverter, battery charger and AC auto-transfer switch. low frequency, low Idle Current, BTS cable, remote control.

★ AC/Battery Priority: Our inverter is designed with AC priority by default, you can choose the battery priority by SW5 switch.

★ Adjustable Charging Current: The max charge current can be adjusted from 0%-100% via a liner switch. 

★ Auto Gen Start: The inverter can start up a generator when battery voltage goes low. and turn the generator off after battery charging is finished.
---
QUESTIONS & ANSWERS
Have a Question?
Be the first to ask a question about this.
Ask a Question
Features
Main Features:
4000W Low Frequency Pure Sine Inverter With Charger.
AC/Battery Priority Selector.
Automatically Generator Start.
Safety and Convenient.
The low freqency inverter can power all kinds of appliances.
LCD Display, Remote Control.
Low Idle Consumption.
7 battery type settings for charger.
Multi Stage Smart charger 65+/-5A, charger can be disable.
10msec typical transfer time.
Packaging:
4000W 24V Low Frequency Pure Sine Inverter
English Manual
Remote Control
BTS Cable
Unit Weight: 53LB 
Unit Size: 17.4 x 9.5 x 7.8 inch
Shipping Weight: 57LB 
Shipping Size: 23 x 12.6 x 12.0 inch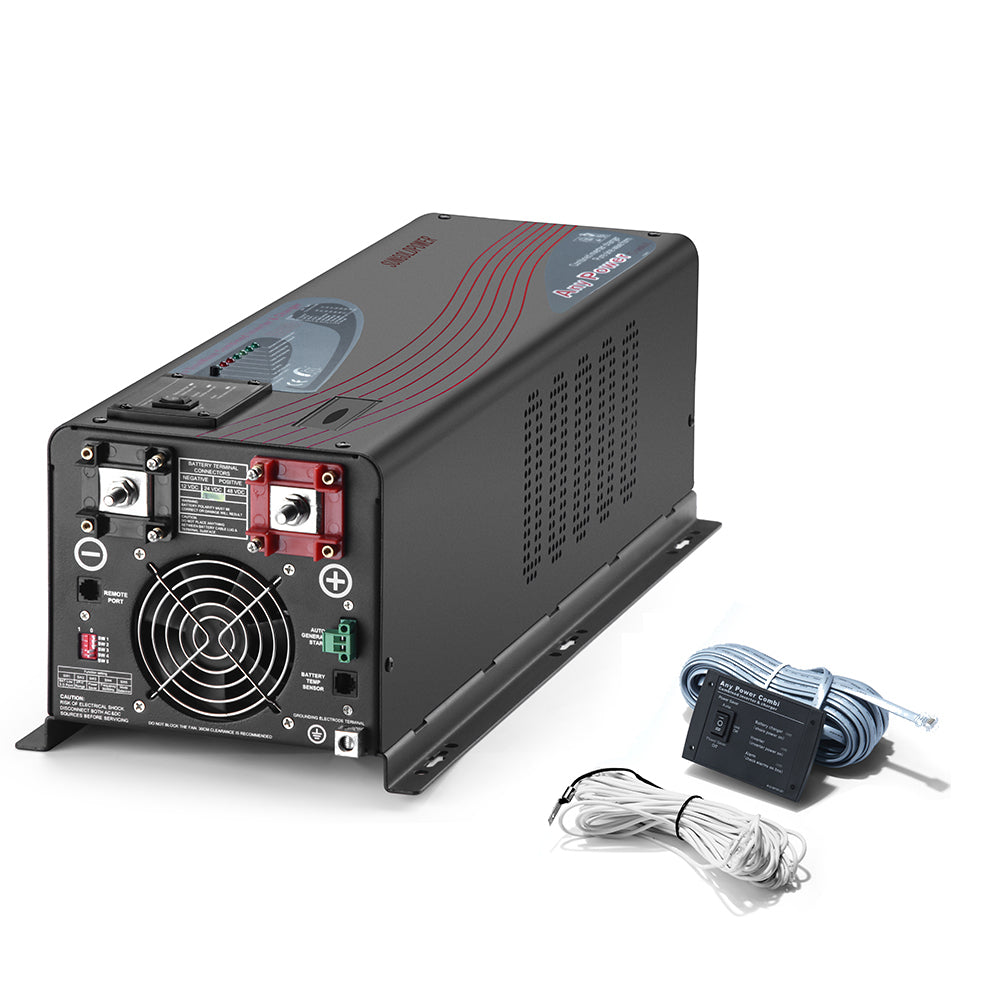 Specification
Main Specification:

Inverter Output:
Continuous Output Power: 4000W
Surge Rating: 12000W (20 Seconds)
Output: AC120V and AC 240V ,60HZ
AC Input:240V
Output Wave: Pure Sine Wave (bypass mode)
Typical Transfer Time: 10ms (MAX)
Nominal Efficiency: >88%
DC Input:
Nominal Input Voltage: 24.0Vdc
Minimum Start Voltage: 20.0Vdc
Low Battery Alarm: 21.0Vdc-22.0Vdc
Low battery Trip: 20.0Vdc-21.0Vdc (select by SW1)
High Voltage Alarm: 32.0Vdc
Low battery Voltage Restart: 26Vdc
Idle Consumption: 48W 
Power Saver Mode Idle Consumption: 19W
AC Charger :
Charger Rate: 65+/-5A
AC input Range (Grid or Generator) : 90V-135VAC/100V-135VAC (select by SW2), 140V-270VAC/184V-253VAC (select by SW2)

Over Charge Protection Shutdown:31.4V

Selectable Charge Setting based on battery type

Adjustable charge current: off 0%-100%
3-step intelligent battery charger
User Manual
Download LFP Series Pure Sine Wave Inverter/Charger User's Manual
FAQ
Frequently Questions Answer
1. Regarding the SunGoldPower 4000W DC 24V SPLIT PHASE PURE SINE WAVE INVERTER WITH CHARGER: Would a 220 amp hour, 24 volt, AGM battery pack have enough power to start my 1.5 hp, 230 volt, 10.6 amp, 2 wire deep well pump? Thank you.
    Dear Customer, yes, it is ok for the 1.5hp 230v well pump, thanks.
2. What gauge size battery cable/wire should be used in this inverter?
    Dear Customer, you could use 120mm² cable if the cable length is in 10m, thanks.
3. Will the battery charger work with li fe po4 batteries, lithium?
    Dear Customer, yes, it can. you could find the description of "battery type selector" in the manual, it's ok as long as your battery voltage is within that range, you could download the manual from the product page, thanks.
4. Does this unit have a warrantee?
    Dear Customer, the warranty is 12 months. the replacment and refund is 30 days.