Best Sellers
12000W 48V Split Phase Pure Sine Wave Inverter Charger

  Free Shipping 
 Lifetime Customer Support 
  24 Months Warranty     
Highlight:
★ LF-PV Series Pure Sine Wave Inverter is a combination of a 48-volt inverter, AC charger, and Auto-transfer switch into one complete system (without MPPT).
★ The split-phase inverter requires 240VAC input and can provide 120VAC or 240VAC output power for all kinds of appliances, and it can output 50 or 60Hz via the SW4.
★ 

AC/Battery Priority: Our inverter is designed with AC priority by default, 

you can choose the battery priority by SW5 switch.

★ Features: Smart Remote Control, Automatic Generator Starting (AGS), Suitable for different kinds of batteries.

★ Application: for all kinds of loads: refrigerators, freezers, microwaves, dryers, air conditioners, pumps, and all the big home and business applications.
---
QUESTIONS & ANSWERS
Have a Question?
Be the first to ask a question about this.
Ask a Question


Main Features:
12KW split phase pure sine inverter charger DC 48V AC 240V input AC output 120V/240V

Auto Generator Start (AGS)

Support Solar Panel with MPPT Function

Include Battery Temperature Sensor (BTS) and Remote Control

8 kinds of battery voltage selection ( lithium LiFePO4, gel, AGM, and lead Acid batteries)

Compatible With All kinds of Home & Office Appliances

Powerful Charge Rate Up to 120Amp, Selectable From 0%-100%

Built-in transfer switch and battery charge, backup, or off-grid power solutions

AC/Battery Priority Mode, Designates the Inverter-Preferred UPS Configuration

4-step Intelligent Battery Charging, PFC (Power Factor Correction) for Charger

8 ms Typical Transfer Time Between Utility & Battery, Ensure Power Continuity

15s Delay Before Transfer when AC Recover, Protection for Load when Used with Generator
Packaging:
12000W 48V Split Phase Pure Sine Wave Solar Power Inverter
English Manual
Remote Control
BTS Cable
Unit Weight: 160 LB 
Unit Size: 26.37 x 14.96 x 7.87 inch
Shipping Weight: 190 LB 
Shipping Size:  32.67 x 21.25 x 15.35 inch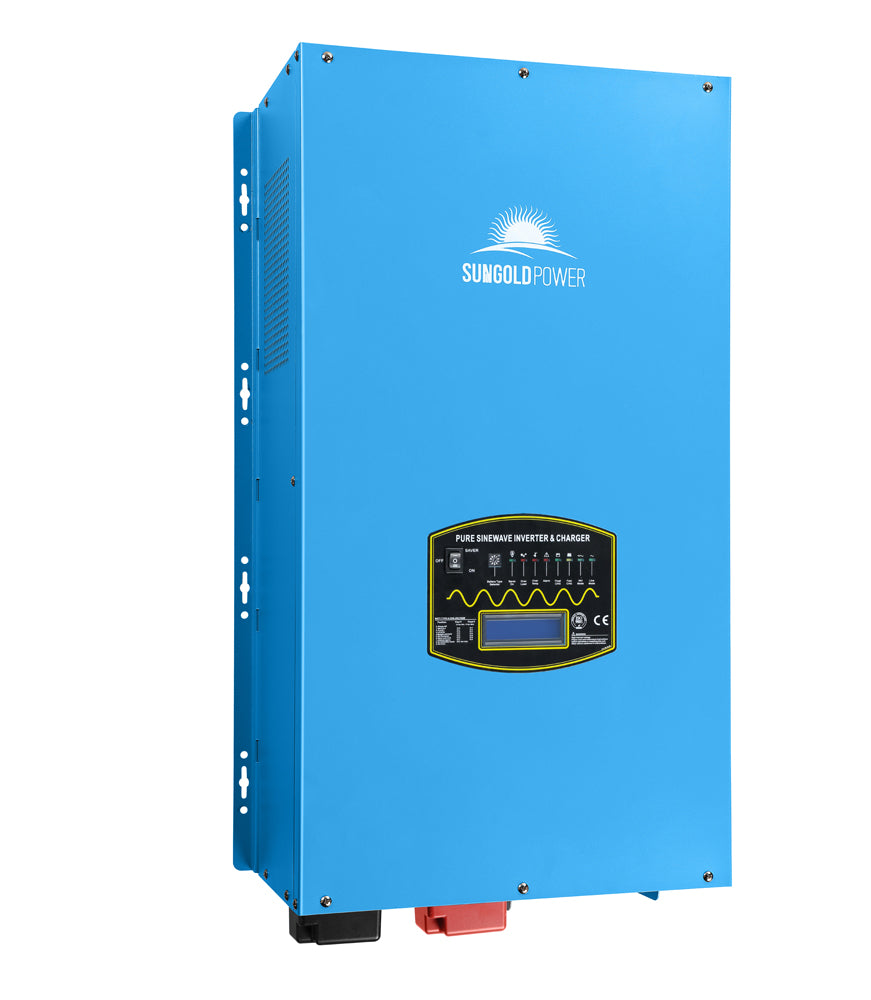 Specification
Main Specification:
Continuous Output Power: 12.0KW
Surge Rating(20s): 36.0KW
Output Waveform: Pure Sine Wave
AC Output Voltage: 120V and 240V
AC Input Voltage: 240V

 ( not suitable for AC 120V input )

DC Battery Voltage: 48Vdc
Solar charger Current: 60Amp
AC Battery charger: 120±5Amp
Output Frequency:

50Hz /60Hz

Typical transfer Time: 10ms(Max)
DC Input:
Nominal Input Voltage: 48.0Vdc
Minimum Start Voltage:

40.0Vdc/ 42.0Vdc

Low Battery Alarm: 42.0Vdc / 44.0Vdc
Low Battery Trip: 40.0Vdc / 42.0Vdc
High Voltage Alarm: 64.0Vdc
Low Battery voltage recovery: 62.0Vdc

Power Saver on Idle Consumption: 40W

Power Saver off Idle Power: 180W
Charger :
Output Voltage: Depends on battery type

Battery Initial Voltage for Start-Up: 40-62.8V

Over Charge Protection Shutdown: 62.8V

Charger Breaker: 80A

Input Voltage Waveform: Sine wave (Grid or Generator)

AC input range:184-253Vac/140-270Vac

Nominal Input Frequency :50Hz or 60Hz (Auto detect)
Solar Charger controller:  (you can disable our solar controller, and connect with an external solar controller)
Solar Input Voltage Range: 60-100Vdc
Max.PV Open Circuit Array Voltage: 105Vdc
Rated Charge Current: 60A
Over Charge Disconnection: 59.2V
Over Charge Recovery: 54.4V
Over Discharge Disconnection: 43.2 V(default)
Over Discharge Reconnection: 49.2V
User Manual
Download LF-PV Series Pure Sine Wave Inverter User's Manual
FAQ
Frequently Questions Answer
1. How do you connect this to a home with the multiple-phase system?
    Dear Customer, it only has dual phase output, 120V, and 240V, it can't work with the multiple phase system, thanks.
2. This inverter can use 240v, and 120v at the same time?
    Dear Customer, if you need to have 240V & 120V load at the same time, HOT1 will have 2cables connected, but please note that 120V load power cannot exceed 50% of the inverter's real power, it is only 6000W if 120V output, hope your kind understanding, thanks.
3. What is the power consumption of the inverter with no load?
    Dear Customer, the power saver on idle consumption is 40W and the power saver off idle power is 180W, thanks.